Heather
I have struggled with weight issues all my life. When I was a little girl I even felt overweight and fat. Looking back now I know it was just in my head but yet I struggled to still think that way about myself no matter where I was in life. I had my first child in 2003 and that's when the weight started to pack on. I have four children and with each pregnancy I gained and kept on 25lbs. My highest weight was 295! I felt horrible, I felt like giving up, I felt like this was my life and I should accept it.
In 2013 I decided to make a lifetime change. My kids needed a mother whom they could be proud of. I was always telling them to go outside and be active yet I was not setting that example for them at all. If I wanted them to be active and healthy, then I had to be willing to do that myself. I decided to join the gym and stop making excuses.
I first met Traci at the gym. I had just finished a workout and as always I went in to the sauna and there she was. She had the most beautiful sculpted back and I complimented her on her hard work. As we continued to talk I found out that she was getting ready for a competition. She was on her own journey as well. I was looking at her like how could this woman possibly need to do anything else. I think that was when a lot of things clicked. No matter what you are struggling with or working on we all have goals. We all may have different goals but in a sense we are all trying to be better versions of yesterday.
I finally was able to set my mind to believe I could workout with her. On our first day of working out together she wanted to see what I could do. I was a bit nervous but I gave it all I had. She was able to spark that in me. Traci had such an awesome approach to helping me. She was very caring and understanding of what I needed. I really thought that I knew exactly what I was doing when it came to form but I needed a lesson or two. We started from the basics and worked up to setting PR's. Eventually I was able to do a lot of the same weight as her on most things. She would always have workouts ready for me and encourage me to do the unthinkable. She instilled confidence in me I never thought I had. I gained muscle and was getting stronger every day.
Nutrition was a huge part of my success. If you don't eat according to your goals then you will fall short in your results. Traci was able to take some simple numbers and turn them in to results. I stayed within my calories/macros and saw results. She would give me options for food at different meal times. I would eat according to that day's work out. If I didn't understand something then I would ask and she would help me to the best of her knowledge. If she didn't know the answer she would find the answer. She taught me how to meal prep my food so that I was always ready for life. Life has its funny ways of telling you that you can't always control what's happens. Having your meals ready you will never have the excuse of not having a healthy meal. It made life a lot easier as well. I could just reach in and grab my meal and eat it. I didn't have to wait to cook it our put it together especially if I had to run out the door.
Traci is hands down the most passionate person I have ever met. Her conviction about health and fitness is absolutely inspiring. She is always eager and willing to help because she truly cares about helping people. Her knowledge is astonishing and I promise if you listen and at least have the willingness to try, you will see results. My weight now is 215 and I have a long way to go but I know with Traci I will meet my goal. Going from that self-conscious little girl to believing that anything is possible and being the strong confident woman I am now I owe a lot of it to Traci. She believed in me. I will be forever grateful.
3 Month Progress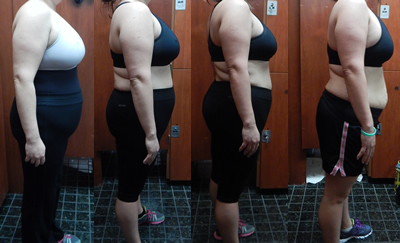 Kay Flowers
Traci recently worked with me and helped me on my path to a healthier life style and way of living. She helped me create fitness goals, she was informative, knowledgeable, and definitely very motivating! Traci was thorough, and always very accessible, she really helped me stay accountable, I needed that commitment to help me be successful!
I managed to lose quite a few pounds, but more importantly Traci educated me and gave me insights and tools to help me transform my body. I was flabby and lacking in confidence, but after working with a Traci for several months I had learnt how to eat properly and how to fuel my body, and as a result I was very successful losing weight, building muscle and I became stronger and stronger.
Traci is very dedicated and committed in the relationships that she forms, she genuinely cares about her clients and is passionate about being part of their fitness journey!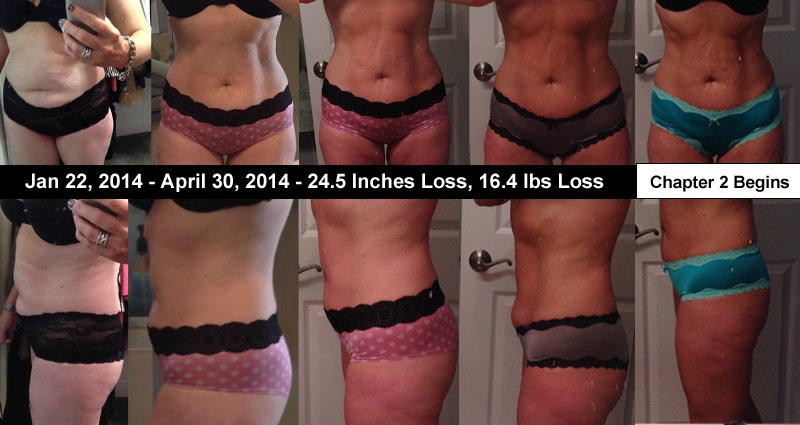 Kelsie
My experience with Traci has been life-changing. I started as what most would call "skinny fat" and ended around the same weight with actual muscle that I could see and strength I could feel. I wanted more muscle but wasn't eating enough. Traci taught me how to fuel my body with the right amount of carbs, fats, and protein along with the creation of progressive workouts to reach my personal goals. My weekly check-ins were full of encouragement and advice to keep me on track. Thanks to Traci I feel stronger and have a better grasp on the fitness and nutrition that my body needs. She continues to inspire me and I wouldn't be where I am today physically and mentally without her.
Coaching note: After finishing her coaching with me, Kelsie has gone on to work on her own certification in fitness and nutrition. As a coach, I am thrilled when my clients choose to be coaches themselves and grow their knowledge in fitness and nutrition. You can follow her new company Kelsey Michaud Coaching (https://www.facebook.com/kelsie.jacobs.92)
Chris
I began training with Traci when I signed up for the 90 Day Challenge at Lifetime Fitness. The 90 Day Challenge is a contest and information workshop hosted by Lifetime to get members to improve themselves. One of the first things Traci talked to me about was the importance of diet and how it was 80% of your success. She brought a full presentation with her that was really well put together. It was easy to understand and had quick lists and categories for every food option. She even shows the best places to bulk buy meat!
I started using MyFitnessPal as a tool to track my macros. She gave me target numbers to hit but let me pick my foods. This was called flexible dieting and was a welcome change from the usual chicken, broccoli and rice type meals that are so often associated with loosing weight. As long as I hit my numbers I was good. Well, initially I was like, "Yeah, I'm right on the money with my macros!" She takes a look at my diary and sees that I'm 200 calories over one day, 100 under the next, and tells me that I need to hit my target numbers EXACTLY. It took me approximately two weeks to dial it in, but when I did, I was hitting my numbers every day and seeing results. Another key component to the diet and my overall health was to drink at least 1 gallon of water every day. I can't tell you how much better I felt after I increased my water intake. Headaches were no longer a daily occurrence, my overall energy levels were higher, and my body started responding even better to the diet.
Another invaluable part of the training process involved progress checks that would include weigh ins, body measurements and pictures. Traci would use these as a way to check your progress but they were also such a great mental boost to see results from multiple tests. Traci's goal for me was to get me down to 4% body fat as a mock show prep for men's physique. Sometimes I would question her but she was reassuring and knew just the right thing to say. She created a workout plan for each weak that was tailored to my goals. If there was an exercise that I had a hard time with or would hurt due to injuries, she would find an alternative exercise that would be just as effective while accommodating to my needs.
I ended up 20th in the nation for the 90 Day Challenge in the men's body transformation category. I was 1st in Arizona. My weight at the start of the challenge was 174 lbs and I ended up at 154 lbs. My body fat percentage went from 12.4% to 4.3%. Traci was right on with her prediction of 4% body fat.
I am still training with her, and plan to do a men's physique show in October. Traci is more than just a great trainer, she is someone that will truly listen to you. She's helped me improve my self confidence and my mental image of myself. I've found that the physical changes are the easiest to see but the mental changes are far more important and can improve all aspects of your life.
Thank you for being a great trainer, and an awesome friend.
Gina
Gina is a wife, mother of 3 boys (her youngest is 3 years old), and pilot. She travels quite a bit for work and finds herself eating out often. When at home she is a busy mom trying to take care of herself and her very active family. Gina has been following macros for many years now. She has had success and has had set backs. In 2020, Gina found that she was one of the many people who gained weight during the covid pandemic.
We jumped on a call and got her started. In our phone call she said, "Her one goal was that she would love to do a boudoir photo shoot for her husband for his birthday. She had wanted to do this for many years" The one thing holding her back was feeling comfortable enough for do it. She set a weight loss goal to reach 135. While thinking it might not be possible I held her to her goal. The one limiting belief that Gina had was that her body loved 150 lbs. and she couldn't break free from that weight. To reach her goal I gave her specific tasks to complete which included researching photographers, scheduling a date for the photoshoot, and doing everything she needed to reach her goal.
Once the date for the photoshoot had been booked there were a few things I requested Gina to do.
Take any treats out of her diet. Understanding she was going to be training a bit more I wanted to help her curb hunger that might arise and have her focusing more on nutritiously dense foods (i.e. more whole foods).

Stop eating out. She needed to find a way to prep meals and still travel and stay on point.

Nutrition had to be dialed in with no excuses.
And lastly,

Do whatever it took to reach the goal. You might think that meant hours in the gym but not really. She set a step count goal and worked out a few times a week.
I asked her to do these things because if you ever booked a photoshoot they cost a lot of money. I did not want her to have any regrets. While you you can eat whatever you want when you follow a macro based diet there are strategies that result in better success and I wanted her to use every tool she had to reach her goal.
The week of her photoshoot she saw 135 on the scale many times but the day before she saw 137. She reached out to me in a bit of a panic. My advice…get a good nights sleep, eat according to our plan, drink water and focus on relaxing. I knew her cortisol levels very elevated.
I was thrilled to get the message the morning of her photoshoot that not only did she reach her weight loss goal she surpassed it and hit 134. The best part of all is that she felt amazing for her photoshoot.
What she learned from this experience was that she had a lot of support around her especially from the people she worked with as a pilot, her mindset shifted to seeing the benefits of exercise and more whole foods. She now feels sexy, confident, strong and, beautiful. These things are priceless and not one of them has anything to do with the number on the scale.
She is now around 133-135 lbs. and she is transitioning to maintenance calories. We are strategizing long term about how to tackle the holidays and how to transition her off of tracking.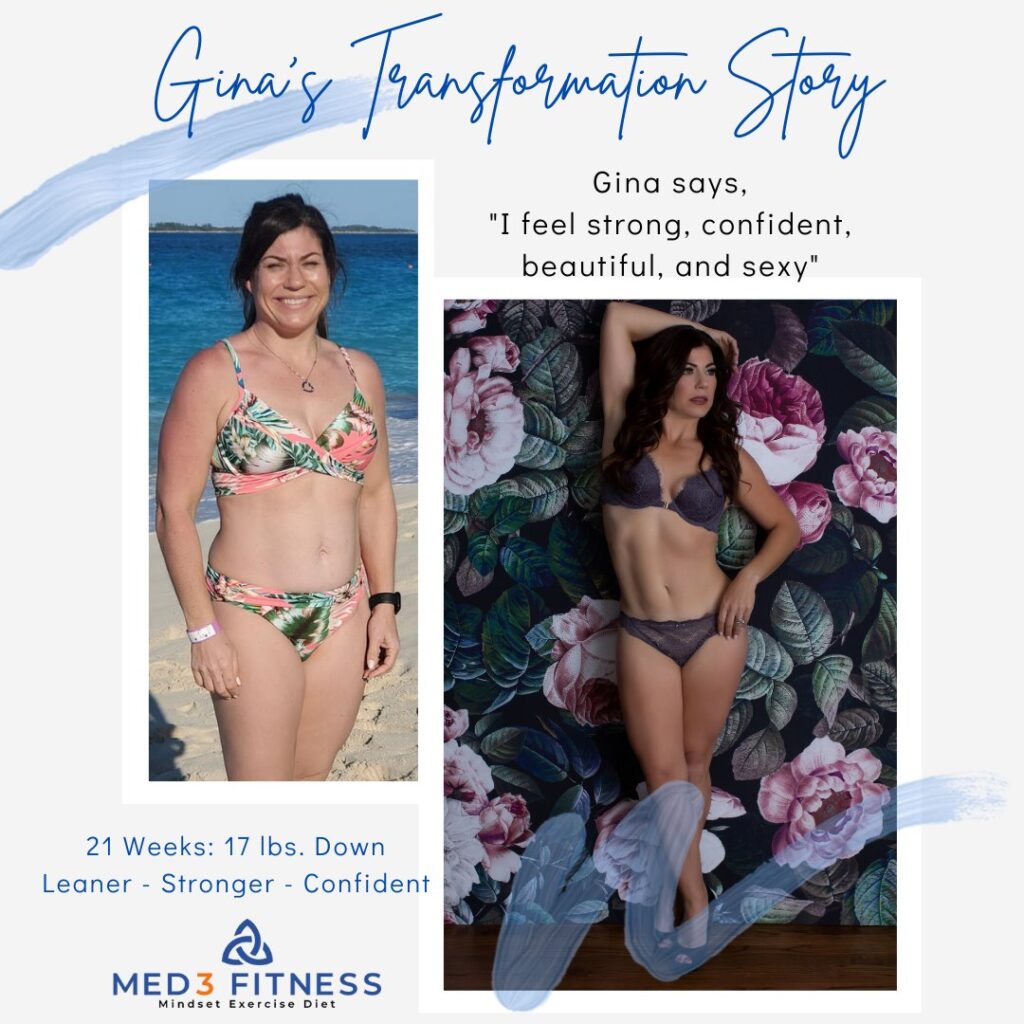 Lidia
Lidia is a wife, full time mother of 4 and care giver. She has been doing macros on and off for a few years and has had success losing weight before. But she always struggled with those "last 10 lbs". She reached her 10 lb. weight loss goal in 10 weeks. There were weeks she lost 2 lbs. and weeks she lost less than a tenth of a lb. But she stayed consistent week after week. One non-scale victory she celebrate along her journey was mindset changes. She said, "Even though the scale has not dropped this week. I am okay with that. Before I would be stressing and thinking do I need to lower calories, what do I do. I wouldn't even think, maybe it is hormonal or something else. I'm really learning to trust my consistency and that if I'm doing everything right, the weight will come off." — Funny enough her weight loss trend showed almost 1 lb. loss for this week. She attributes her weight loss success to hard work, consistency and coaching. She said, "I love the group coaching calls and look forward to them. I like the fact that when I hit a plateau I have a professional to go to and advise me with how to keep making progress the right way. "You might think she had to exercise for hours and eat hardly anything but in reality she continued eating the foods she enjoys. She utilized tools and strategies for nutrition to help her reach her goals. In addition, she was able to enjoyed family vacations, holiday BBQ's and family get togethers without guilt all while losing weight. She strength trains 4 x a week and focuses on maintaining an average daily step count. After, she hit her 10 lbs. weight loss goal she decided to keep going. She reached an 18 lb. weight loss goal at week 16. We have now pivoted and are working on feeding her more calories so we can find her metabolic capacity.
I believe Lidia represent so many of you trying to lose weight but not sure how to achieve your results.